Today has been…a day. I bought 3 maybelline polish from what looks like their effort to renew their polish line and cash in on this old trend that's been taking on new life. I grabbed Purple Possibilities (a psydo crackle) and Styled Out (a darker than it looks in bottle shimmery blue denim). God only knows where the third bottle went. It was in the truck, but not when we got home. It was a pretty in bottle dark creamy looking blue.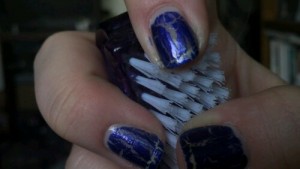 There is Purple Passion. It goes on like shit after the second swipe, and by the time you are doing the third to finish covering you nail, you're pulling off the first swipe in large amounts. Goopy might be the word, but that doesn't excuse or explain the polish removing like half dead sharpie on sharpie on notebook cover action.
Here's 1 coat of Styled Out. It went on great and solid in 1 coat. It's a little see through with light behind my left thumb nail, but that's nothing.
I really wish I could have done the third bottle.
Permalink Comments Off on Some new polish